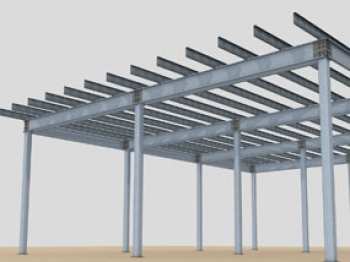 The first seismic force-resisting system introduced in the AISI Seismic Standard is termed Cold-Formed Steel Special Bolted Moment Frames (CFS─SBMF). This type of one-story moment frames is usually composed of cold-formed Hollow Structural Section (HSS) columns and double-channel beams connected by snug-tight high-strength bolts. The first edition of the Standard for Seismic Design of Cold-Formed Steel Structural Systems–Special Bolted Moment Frames, hereinafter referred to as the Standard, was completed in 2007.
The clear Basics, easy to install and implementation will bring considerable benefits, such as high reliability, easy quality control, architectural unique features, easy transportation and access to materials, high speed implementation and …, for this technology of construction.
Some applications of CFS-SBMF technology are as follows:
1- Shelters in the industrial, petrochemical, power plants and …
2- Access platforms in the industrial, petrochemical, power plants and …
3- One-story industrial, recreational and athletic buildings, with light sloped roof and light interior and exterior walls.
4- Workshop buildings with various applications such as leadership camps, workers camps, office, warehouse or workshop.
5- Warehouses in factories, agriculture, livestock and ...
Unlike the conventional structural design Principles, in CFS-SBMF systems, inelastic action (energy dissipation) is mainly contributed by the bolted connection and inelastic action in the beam and column shall be prevented. Therefore design methods of CFS-SBMF systems differs the conventional structural design methods and requires mastering specific design principles for this type of structures.
As the first company, MSD introduced CFS-SBMF systems in Iran and is providing the professional design and construction of this new technology for wide range of industrial, non-industrial, recreational and sports buildings based on AISI S110 and AISI S100.